DFM S7 and DFM D S7 – hardware tool for direct fuel consumption measurement and monitoring flow of liquids with 1.5 to 6 mm2/s kinematic viscosity, also used for recording engine operation time and fuel/liquid flow time. DFM S7 wireless fuel flow meters are used in vehicle telematics (GPS/ GLONASS vehicle tracking), online monitoring systems of stationary engines, boilers/heaters, and as an stand-alone solution for fuel consumption monitoring.
The flow meters are based on S7 Technology, which ensures wireless data transfer via Bluetooth 4.X (Bluetooth Low Energy) to several devices using BLE-radio. In other words, the flow meters are operated in "advertising" mode – data is sent simultaneously to telematics units and GPS trackers, Bluetooth-displays, smartphones and tablets.
operation in BLE-radio mode: data is sent to several Receivers at the same time
in-built battery – fuel flow sensor works without external power supply
very low power consumption allows autonomous operation of flowmeter for 5 years
explosion and fire safety without additional intrinsic safety barrier
no cables – improved resistance to vandalism or accidental damage
Preventing fuel theft

Fuel consumption monitoring

Engine testing for fuel consumption

Machine running time tracking
Wireless flow meter's fields of application
Models of wireless fuel flow meters
Single-chamber (models DFM 50S7, DFM 100S7, DFM 250S7, DFM 500S7) – fuel consumption measurement in fuel feed line of engine. Can work both autonomously and as part of a telematics system. Designed for fuel consumption control of road, off-road and railway vehicles, water vessels, diesel generators and stationary machinery equipped with Euro-4 engines and lower, which have 1 to 500 L/ h flow rate.
Differential (models DFM 100DS7, DFM 250DS7, DFM 500DS7) – measure fuel consumption as the difference in flow rates in feed and return lines of fuel system – differential consumption measurement from 10 to 600 L/ h. Designed for fuel consumption control of road, off-road and railway vehicles, water vessels and stationary machinery equipped with modern diesel engines, which has Common Rail or pump injector fuel systems.
Fuel consumption and operating time Counters:
Hourly fuel consumption, L/H
Total fuel consumption, L
Total fuel consumption in "Idling" mode of engine operation
Total fuel consumption in "Optimal" mode of engine operation
Total fuel consumption in "Overload" mode of engine operation
Fuel consumption in "Tampering" mode
Total operating time, h
Total operating time in "Idling" engine operation mode
Total operating time in "Optimal" engine operation mode
Total operating time in "Overload" engine operation mode
Operating time in "Tampering" mode
Operating time in "Interference" mode, h
Current engine operation mode as per fuel consumption rate
Fuel temperature
Battery charge
Bluetooth data transfer to telematics unit or tracker
The flow meter continuously transfers information about fuel consumption, engine operating time, engine operation modes, recorded Events using "advertising" (BLE-radio) mode. Data is received using S7 Technology by all devices within the range of the signal of BLE module of the fuel flow meter.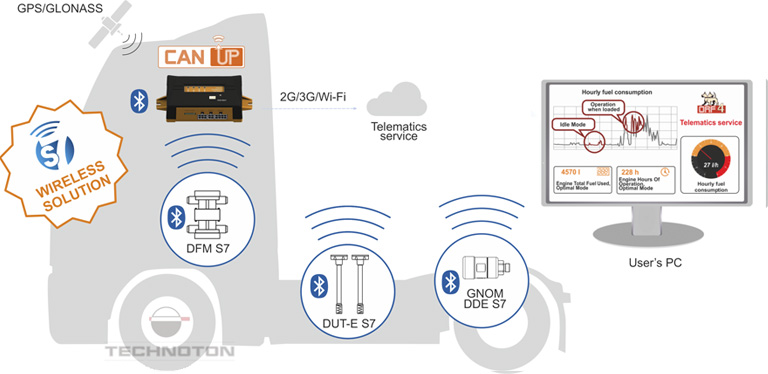 GPS trackers compatible with DFM S7 wireless flow meter
Fuel consumption control via Bluetooth on a smartphone
To receive data from wireless fuel counter using S7 Technology to a smartphone/tablet based on OS Android 5.X and above, Fuel consumption monitor mobile application is used, the functionality of which allows a user to:
carry out fuel consumption and temperature monitoring
perform fuel consumption accounting
record machinery operating time
monitor engine operating mode based on flow rate
view real time graph of instant fuel consumption
monitor flowmeter malfunctions
check fuel sensor's battery charge
monitor hourly consumption and fuel temperature values
perform operations with flow meter's configuration profile
Fuel consumption monitor app is available in Google Play (search request "Technoton")
DFM S7  part number description for ordering
The designation U is relevant only for single-chamber models.
Models are delivered by special order.
Technical specifications of wireless flow meters
| | |
| --- | --- |
| Max pressure, bar | 25 |
| Interface | Bluetooth 4.X |
| Tx power, dBm | +4 |
| Maximum distance between  fuel flowmeter and receiving device, m | 15 m (if there are metal bulkheads at the installation site) 50 m (when installed in line-of-sight) |
| Battery life, years | not less than 5 |
| Operating temperature | ºС -40…+85 |
| Ingress protection rating (IP Сode) | IP54 |