TANKER TRUCK MONITORING
Remote monitoring system for truck tankers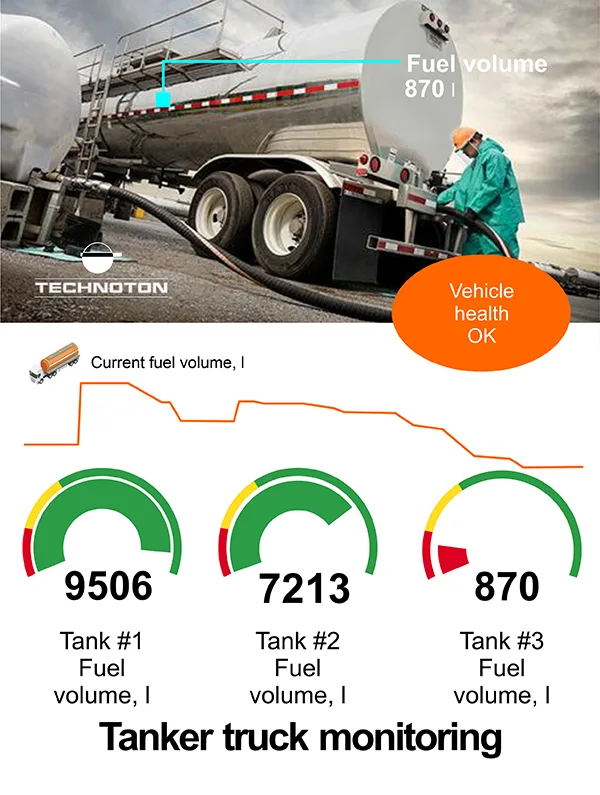 Fuel temperature monitoring
GPS location tracking
Fuel temperature monitoring
Fuel truck monitoring system provides comprehensive control of each tank compartment, volumes and places of fuel dispensing, tractor unit operation parameters, transportation route, as well as driver behavior on the road.
The main task of tanker truck monitoring is online control of tank contents. Since a liquid cargo transported is of the greatest value, owners want to be sure that the volume of fuel poured into the tank will be delivered to consumers, and not "lost" along the way.
Tank truck telematics monitoring system allows controlling more than 250 different parameters.
Control of each tanker compartment
Monitoring of volume, level and temperature of fuel in each compartment of a tanker. Detection of events and sending notifications about refueling (filling the tank) and draining. Monitoring of tanker manhole covers opening.
Monitoring of volumes and places of fuel dispensing
Accounting for the volume of fuel issued by the tanker, both total and for each refueling, with reference to date, time and location. Identification of unwanted interference and cheating attempts.
Tractor unit fuel control
Control of fuel tanks of a tractor unit and fuel consumption in "idle", "optimal", "overload" modes. Identification of events of refueling and draining from tractor tanks, intervention in the fuel system (draining from "return" line).
Monitoring of engine operating modes
Accounting for tractor unit engine operating time in "idle", "optimal", "overload" modes and remote fuel system diagnostics for preventive maintenance implementation and analysis of operation and downtime of a fuel truck.
Transportation route monitoring
Satellite monitoring of a route, location, speed, stops in real time allows you to discipline drivers and be sure of cargo and tanker itself safety.
Application of fuel truck remote monitoring system
Remote monitoring systems are applicable to tanker trucks that are used to refuel heavy mobile and stationary equipment in the field.
System users:
Tanker truck fleet owners and operators. Fuel monitoring from filling at an oil terminal to issuing to the end user or storage tank. Simultaneous use of level sensors, flow meters and GPS tracking helps prevent fraud and unauthorized drains.
Fuel truck servicing companies. Remote diagnostics of engine, fuel and other systems according to flowmeters and CAN-bus, monitoring of operating hours, maintenance planning, advance ordering of consumables and spare parts.
Fuel truck manufacturers. Remote monitoring of the technical condition and compliance with rules of equipment operation, monitoring engine lifetime, fuel system, tank and other components, collecting statistics of failures, modernization planning of manufactured tanker trucks.
Tanker truck monitoring equipment
Fuel truck operating parameters are measured instrumentally using intelligent onboard equipment.
Fuel trucks monitoring system includes the following measurement equipment:
All measuring devices and readers are combined into a single wired and/or wireless network.
The telematics gateway collects data from standard and additional sensors, and also works as a GPS tracker, generates reports based on received parameters and transmits information via the Internet or via Wi-Fi to an online server. Also, operation parameters of a fuel truck can be controlled locally on a CAN display screen. Sending e-mail and SMS notifications about important events (refueling, draining, intervention and many others) can be configured.
Task: fuel level measurement in cisterns of truck tankers.
Solution: DUT-E 2Bio differential fuel level sensors.
Task: fuel tank monitoring, GPS vehicle tracking.
Solution: DUT-E GSM fuel level sensor with built in GPS and GSM modules.