FMSCrocodile is used within for vehicle telematics system as a ready-made solution for safe integration of data from one or more automotive buses into CAN/S6 Telematics Interface. FMSCrocodile allows to obtain a large number of vehicle operating parameters via just one CAN-port of telematics unit.
FMSCrocodile CCAN safely reads CAN bus data without any electrical contact with CAN wires, automatically generates and sends FMS and Telematics messages to its output CAN 2.0B interface (J1939 protocol). Thus, telematics unit configuration is simplified since unnecessary data from the bus is filtered and only useful information for vehicle telematics purposes is sent.
Sending FMS and Telematics messages from CANbus to telematics bus
Sending FMS messages from two standard CAN buses to a single CAN-port of telematics unit
Protecting CAN bus from active requests sent by telematics unit
Fuel consumption counter based on standard CANbus instant fuel rate data
Advantages of FMS Crocodile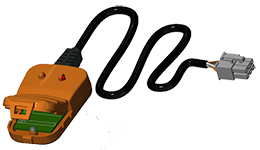 Sending ready-to-use telematics messages
FMSCrocodile reads CANbus data of vehicle and sends processed FMS and Telematics messages. Further message analysis and parsing is not needed.
Allows association of data from several CANbuses
Several units of FMSCrocodile, which are reading data from different CAN buses, can be interconnected with each other in order to send data to just one CAN-port of telematics unit.
CANbus protection
FMSCrocodile's contactless way of connection to wires protects CANbus from signal reversal, CANbus is protected from intentional or accidental active requests of telematics unit.
FMSCrocodile for fuel consumption monitoring
FMSCrocodile can be used as a fuel counter. This feature is useful for vehicles, which do not provide fuel consumption data per trip, while instant fuel consumption data is available.
Contactless FMS-gateway receives instant fuel consumption from CANbus and computes fuel consumption from engine start. Output message is per J1939 standard.
Any telematics unit, which has CAN 2.0B (SAE J1939) port can be used.
FMSCrocodile for sending data from CANbus to CAN/S6
FMSCrocodile can be used for CANbus data integration into CAN/S6 telematics interface. That allows to connect wide number of peripheral devices – fuel level sensors, fuel flow meters and other – to a single CAN-port of telematics unit. This way of connection ensures safe and simple vehicle operation parameters gathering.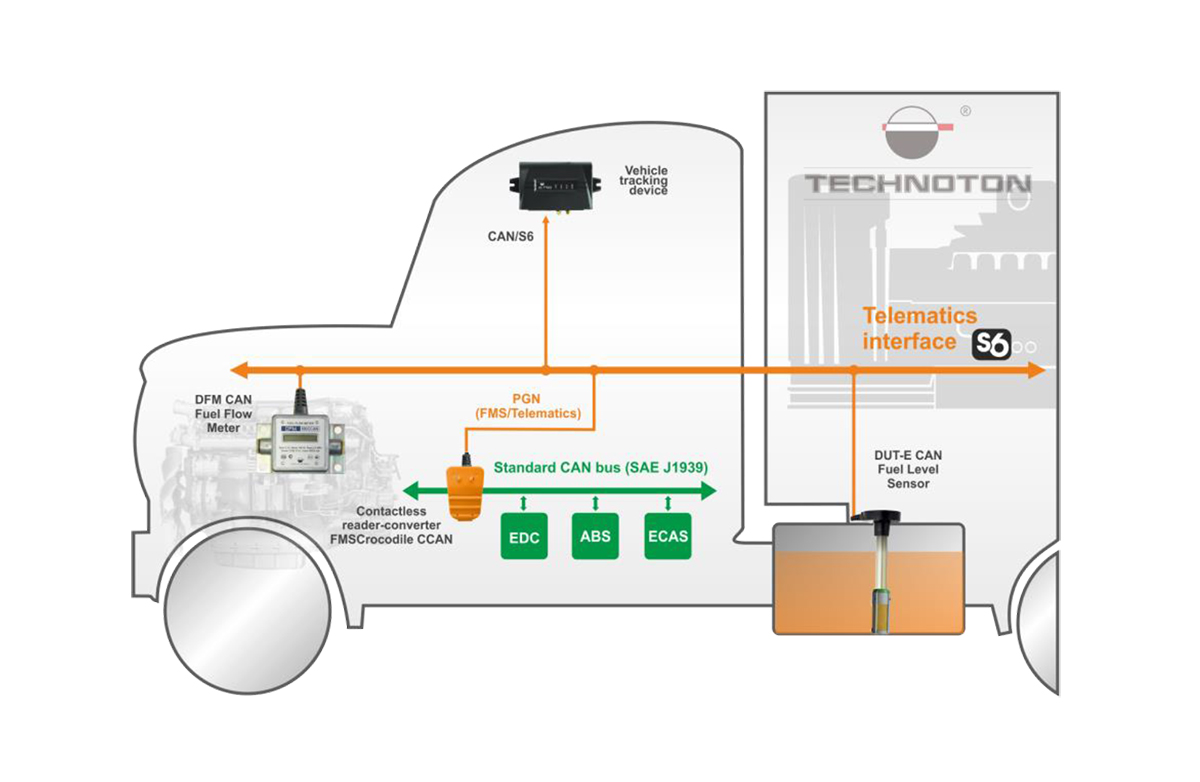 Any telematics unit, which has CAN 2.0B (SAE J1939) port can be used.
FMSCrocodile resends FMS messages, which contain useful information – vehicle operating parameters:
Instant and trip fuel consumption

Total fuel consumption

Engine speed (RPM)

Fuel level in tank

Engin temperature

Oil pressure

Oil level
In total – over 100 vehicle parameters.
FMSCrocodile generates and sends Telematics messages – proprietary messages, which contain most important data. That data will be sent to telematics unit even if FMS is not available for particular vehicle.
Engine speed

Engine Fuel Rate

Engine Coolant Temperature

Engine Oil Pressure

Actual Engine – Percent Torque

Engine Coolant Level

Engine Oil Level

Engine Total Hours of Operation
In total – 16 most essential parameters.
| | | |
| --- | --- | --- |
| Nominal supply voltage, V | | 10 … 45 |
| Operation temperature range, °С | | -40 … +85 |
| Current consumption, mA (24 V/12 V), not more | | 40 |
| Weight, g, not more than | | 100 |
| Level of message losses, %, not more | | 1 |
| Input interface | | CAN (SAE J1939) |
| Output interface | | CAN j1939/S6 (FMS/Telematics) |
Technical characteristics
| | |
| --- | --- |
| Nominal supply voltage, V | 10 … 45 |
| Operation temperature range, °С | -40 … +85 |
| Current consumption, mA (24 V/12 V), not more | 40 |
| Weight, g, not more than | 100 |
| Level of message losses, %, not more | 1 |
| Input interface | CAN (SAE J1939) |
| Output interface | CAN j1939/S6 (FMS/Telematics) |