CANCrocodile Mini
contactless CAN bus data sniffer
CANCrocodile Mini contactless CAN bus data reader is a sniffer for easy and safe reading of signals from CAN (SAE j1939), ISObus (ISO 11992-2), CAN Open, DeviceNet, NMEA 2000 data buses.
CANCrocodile Mini is used in vehicle telematics and GPS tracking systems for sniffing parameters of engine, ABS, ECAS and other units.
CANCrocodile Mini is connected to CAN bus in the way that the wire insulation remains intact and no electrical contact occurs, the sniffer is invisible to other devices and does not reflect signals back to the bus.
Engine hours monitoring (CAN)
Fuel consumption monitoring (CAN)
Remote engine diagnostics using DTC (CAN)
7 core advantages of CANCrocodile Mini
<1% message loss at 125-1000 kbps CAN bus speed
power supply from the on-board network 10-50V without additional power adapters,
LED-indication of power supply and CAN signal reading,
low current consumption – 3mA/5mA at supply voltage 24/12V,
compact housing dimensions for installation in dense wiring harnesses,
reliable clamping of CAN-H and CAN-L wires to the reading surface,
convenient placement of wires in the grooves of the lock cover.
CANCrocodile Mini application in vehicle telematics and GPS-tracking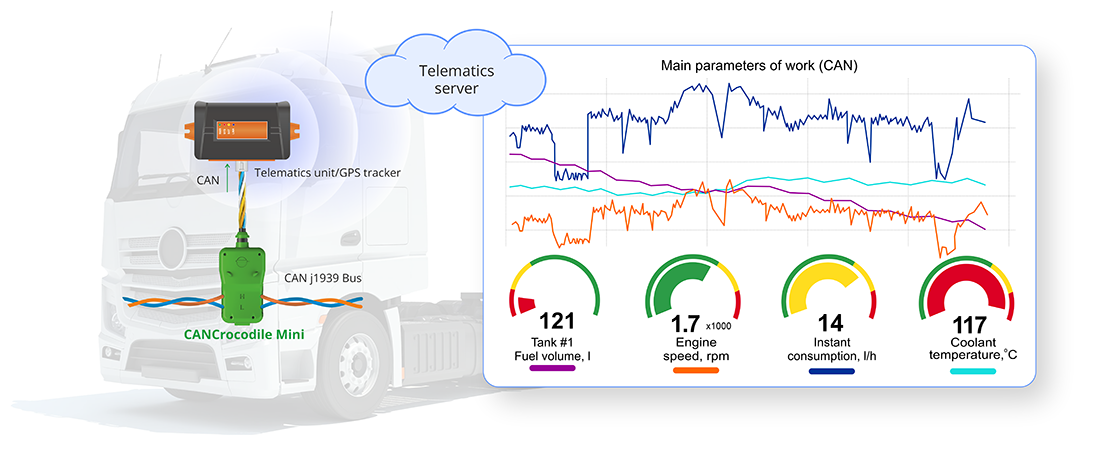 The Crocodile output signal goes to a telematics unit, which transmits the received data to a web-based (cloud) software. A cloud telematics software parses and analyzes the received CAN data and generates reports containing information on fuel level, fuel consumption, engine RPM, active faults (DTC) and other operational parameters of the equipment available in the CAN j1939 bus.
Installing contactless reader on CAN-H and CAN-L wires
Open the case and remove the sniffer lock cover.
Carefully place the CAN High and CAN Low wires into the grooves according to the marking.

Insert the lock cover back into the housing and close until click. CANCrocodile Mini is ready for use.
CAN bit rate (input and output), kbit/s
125…1000
Acceptable level of message losses, %,  less than
1
Power supply voltage
for U12/24 model, V
10…50
Maximum current consumption of
U12/24 model at nominal power supply
12/24 V, mA, less than
5/3
Ambient operating temperature, oС
-40…+85
Ingress protection
IP30
Weight, kg, less than
0.1
Compatibility
SAE j1939
ISO 11992-2
CAN Open
DeviceNet
NMEA 2000
* Losses depend on network traffic and interference/noise on the bus.