Truck telematics
Truck performance monitoring system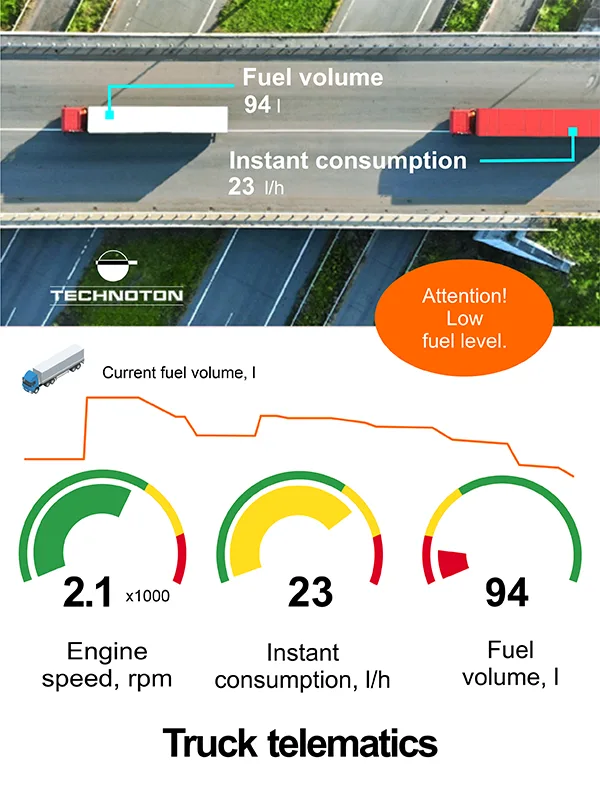 Approximately half of costs of a vehicle fleet is fuel and truck maintenance. Reducing expenses for combustibles and lubricants, and costs for technical maintenance may help to increase efficiency of fleet and generate additional profit from vehicle operation, that can be directed to further development of a business.
Truck telematics solution by Technoton is aimed on monitoring cargo status and performance of a freight truck and helps to improve fleet management system of a business. By equipping trucks with Technoton's telematics hardware, fleet manage/company owner gets an opportunity to:
Track route and location of the trucks using GPS
Detect risky driving, speeding, leaving the route
See cargo weight and prevent unauthorized cargo loading or unloading
Monitor current axle load and avoid fees for exceeding maximum load per axle
Improve efficiency of fuel consumption and increase fuel economy
Detect fuel theft from truck's tank or engine fuel system
Monitor engine health, detect DTCs or other ECU errors
Truck telematics helps to reduce expenses on vehicle maintenance by using predictive maintenance approach – i.e. carrying out truck maintenance depending on real operation modes of engine, replacing fuel filters, tires and other consumable items when they are really actually worn out, rather than using schedule-based approach.
Truck telematics hardware
Features of truck telematics system
Task: fuel tank monitoring and GPS-tracking.
Solution: DUT-E S7 wireless fuel level sensors, CANUp telematics gateways.
Task: remote blocking (immobilization) of engine.
Solution: CANUp gateway, MasterCAN DAC converter.