CANUp telematics gateway is designed for identifying and recording huge amount of machinery operation parameters. CANUp is employed in vehicle GPS tracking and telematics, also for remote stationary object monitoring systems to:
gather and analyze data from additional telematics sensors,
automatically scan and parse J1939/71 and ISOBUS messages,
integrate messages of J1708 and Modbus RTU interfaces,
track object position over GPS and GLONASS,
generate and send operation reports via 2G, 3G, LTE (4G) or Wi-Fi.
Core feature of CANUp gateway – utilization of edge/fog computing methods, which allow detecting 10,000+ possible parameters of vehicle or equipment operation and sending generated operation reports to a web-based telematics server and directly to a user via email and SMS.
10 000+ telematics parameters
CANUp telematics gateway is designed for measuring operational parameters of vehicles and equipment and reporting on its performance. Advanced machinery telematics solutions are made for sea and river vessels, railway machines, mining and quarrying equipment, oil and gas extraction equipment, agricultural machinery, fuel trucks, diesel power-generators, boilers/heaters, corporate gas stations and other mobile  and stationary objects.
Advanced machinery are characterized by multiple points of operation monitoring and control: one or several engines and fuel tanks, attached or special equipment (steam generator, crane boom, crane arm, blade, etc), standard analog sensors and senders, various digital data buses and interfaces.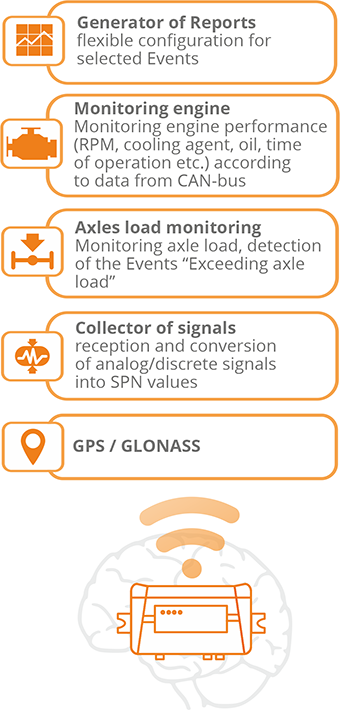 CANUp telematics gateway features
Detect 10 000+ operational parameters
CANUp can detect 10 000+ possible operational parameters of monitored object according to J1939/71, ISOBUS and S6 standards. That allows adapting the gateway  for GPS tracking and telematics of various types of vehicles and fixed equipment.
Creating onboard network of smart sensors

CANUp has CAN j1939/S6 (S6 Technology) interface, wireless BLE-connectivity (S7 Technology) and 2 analog inputs. Up to 100 smart telematics sensors can be connected over the wire, and up to 10 wireless BLE sensors at the same time.
Automatic J1939/71 scanning and parsing

CANUp telematics gateway automatically scans all available messages in J1939/71 and ISOBUS. Telematics technician simply selects which parameters should CANUp parse and include in the Report. No need in manual parsing of HEX-messages from CAN bus.
CANUp measures operational parameter change with a step 0.1-10 seconds, thus increasing distinctness of Reports sent to a telematics server. Detailed information on machinery operation enables implementing predictive technical maintenance approach.
Recognizing Events and sending alarms

Rapid change of operational parameter is considered by CANUp as the Event – e.g. fuel drain, voltage surge, pressure drop etc. Alarms on Events via email and SMS provides opportunity for fleet manager or mechanic to take action on the change in equipment operation and avoid breakdowns, what result in lower maintenance and machinery repair costs.

Event-based model of report generation

CANUp generates, stores and sends Reports on object operation on a timer basis, and upon recognizing an Event. That model ensures important telematics data will be reported in time. Also, CANUp promptly sends the Reports directly to users via email and SMS even before sending to a web-based telematics service allowing quick feedback with the object.
CANUp gateway in GPS tracking and telematics systems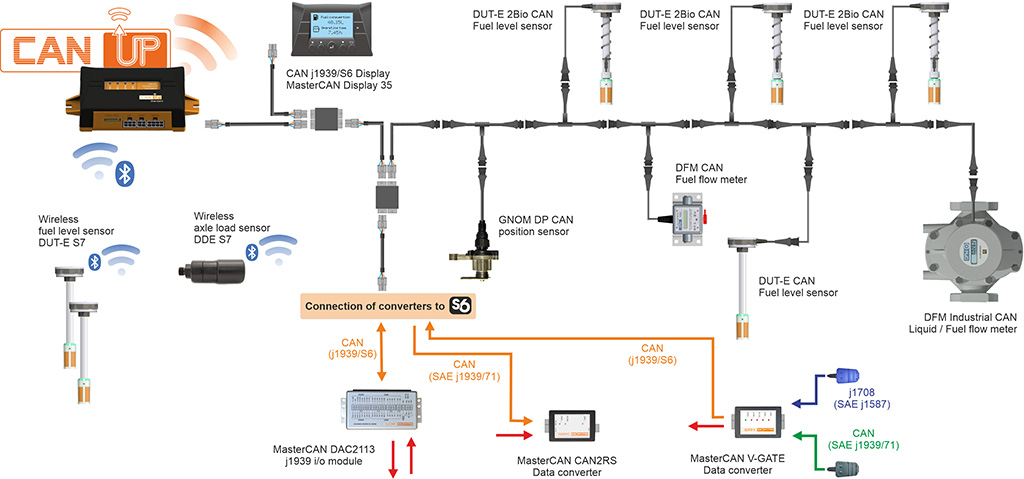 CANUp telematics gateway together with Technoton smart sensors provides noticeable benefits when used within a single GPS tracking and telematics system for vehicle and stationary objects:
100% compatibility of telematics unit and smart sensors.
CANUp gateway is compatible with Technoton fuel level sensors, fuel flow meters, axle load sensors and other products. Compatibility ensures error-free communication between telematics device and the sensors and increases sustainability of GPS tracking and telematics system. In addition, less time for hardware installation and configuration is required.
Quick sensor connection over the wire and over the air.
Universal S6 cabling system helps to connect dozens of smart sensors to CANUp using single cable for communication, power and  configuration of all the devices. Wireless sensors can be connected together with wired devices thus creating combined network of telematics hardware.
Sensor diagnostics and gateway self-check.
CANUp telematics gateway monitors status of all connected sensors and checks their data reliability. In case CANUp detects its own malfunction or a malfunction of a sensor, the gateway generates Report and Alarm and sends them to telematics server and a user. That feature optimizes efforts on telematics system health monitoring and reduces number of service calls and visits.
Smart sensors compatible with CANUp telematics gateway
CANUp telematics gateway models
Main technical specifications
| | |
| --- | --- |
| Wired digital interface | CAN j1939/S6 |
| Analog inputs | voltage, frequency, binary |
| Memory size for storing Reports | 40 000 |
| Autonomous operation from built-in battery | 5 hours |
| "Hot" GNSS start | 10 seconds |
| Power supply | 9…45 Volts |
| Max. current consumption for 12/24 V | 100/50 mA |
| Ambient temperature | -40°С…+60 °С |
Up to 36 sensors over CAN j1939/S6 interface;
Automatic scanner and parser of CAN J1939/71 and ISOBUS;
Data transmission channel: 2G (GSM 850/900/1800/1900 MHz).
Supports over 36 sensors via CAN j1939/S6 interface;
Up to 10 BLE-sensors can be connected;
Automatic scanner and parser of CAN J1939/71 and ISOBUS;
2 and more standard CAN buses can be connected;
Data transmission channel: Wi-Fi (IEEE 802.11 b/g/n).
Supports over 36 sensors via CAN j1939/S6 interface;
Up to 10 BLE-sensors can be connected;
Automatic scanner and parser of CAN J1939/71 and ISOBUS;
2 and more standard CAN buses can be connected;
Data transmission channels: 4G (LTE), 3G, 2G.