J1939 i/o module MasterCAN DAC
MasterCAN DAC is an intelligent converter of digital and analog signals, designed for vehicle telematics (GPS vehicle tracking), monitoring of complex machinery and industrial automation (IIoT).
MasterCAN DAC operates simultaneously in two modes:
Converts analog signals to digital data (PGN) of CAN (J1939) standard
Converts digital data (SPN) of automotive CANbus (J1939) to various types of analog signals – voltage, frequency, pulse, current, discrete, resistive
Data transmission from analog sensors to the only CAN input of telematics unit, dashboard, control board or CAN display.
Data transmission from CAN bus (J1939) and from sensors with CAN/S6 interface to analog dashboard and/or telematics unit with multiple analog inputs.
Automation of operation of analog devices (relays, signal lamps, sound devices) using CAN messages of telematics unit, sensors, j1939 bus.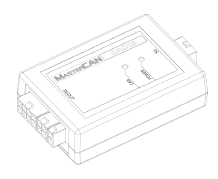 Digital-to-analog converter with basic functionality for trucks and buses.
MasterCAN DAC15 converter is used to integrate vehicle CAN bus with GPS tracker or other telematics devices with analog inputs.
MasterCAN DAC15 together with DUT-E CAN fuel level sensor can serve to display information about the amount of fuel in fuel tank on the indicator of analog dashboard of vehicle. MasterCAN DAC15 is convenient to use for converting analog signal of GNOM axle load sensors into CAN J1939/S6 telematics interface.
Flexible MasterCAN DAC2113 converter with extended functionality for industrial automation and monitoring of complex machinery – locomotives, track machines, river and sea vessels, agricultural, municipal and special equipment.
A wide range of analog inputs/outputs and the availability of CAN j1939/S6 interface allows transferring data from large number of analog sensors to a single CAN input of GPS tracker/telematics unit.
Joint use of MasterCAN DAC2113 with DFM CAN fuel flow meters and DUT-E CAN fuel level sensors is a convenient solution for monitoring of operation parameters of complex mobile and stationary objects – fuel control, integration of standard CAN bus data, data gathering from standard analog sensors, automation of operation of analog devices (relays, signal lamps, sound devices).
MasterCAN DAC configuration
MasterCAN DAC is configured with a special software utility Service S6 MasterCAN and S6 SK service kit via K-Line (SAE 14230) interface. Digital-to-Analog gate mode provides settings of MasterCAN DAC analog outputs according to parameters (SPN) received from vehicle CAN bus messages (PGN).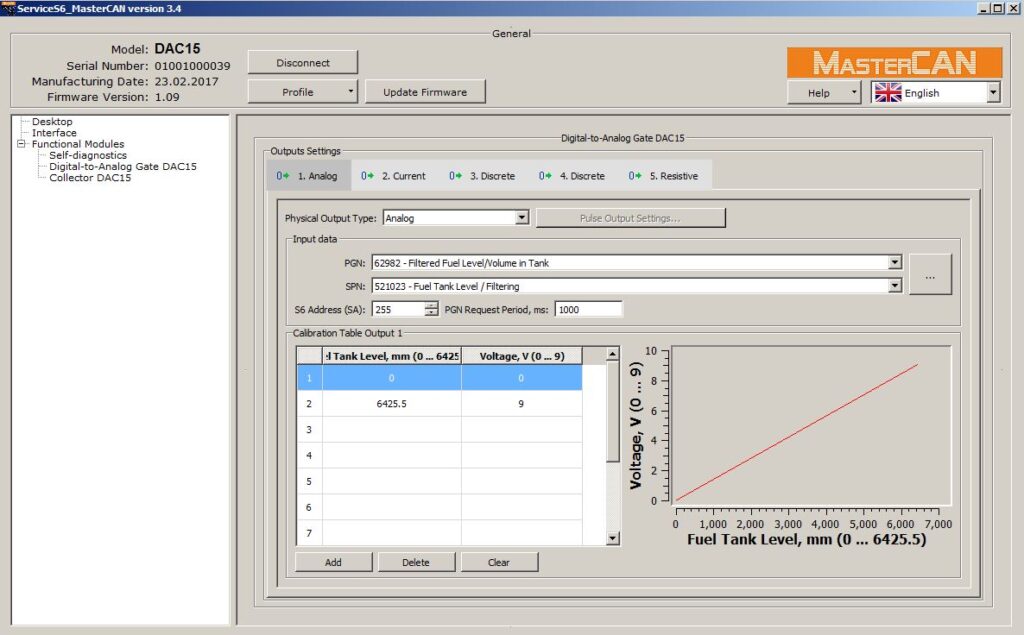 The list of priority SPN for MasterCAN DAC contains most important vehicle operation parameters from vehicle telematics point of view:
fuel level and volume of the fuel tank;
temperature (oil, fuel, coolant, ambient, etc);
pressure (oil, fuel);
fuel consumption;
engine RPM;
speed;
power supply voltage;
axle load and etc.
Collector mode provides parameter settings (SPN) of output PGN messages of MasterCAN DAC15 according to received analog input signal.
| | |
| --- | --- |
|  Parameter |  Value |
|  Power supply range, V |  9…45 |
|  Current consumption at 12/24 V, mА |  not more than 100/50 |
|  Ambient operation temperature range, °С |  -40…+85 |
|  Ingress protection rating |  IP40 |
|  Overall dimensions, mm, not more than |  95.5х58.5х24.5 |
|  Weight, kg, not more than |  0.1 |
|  CAN bus communication interface |  CAN j1939/S6 |
 Analogue input
 Value

 Voltage, V

 0.5…9

 Frequency, kHz

 0.01…10

 Analogue output
 Value

 Voltage, V

 0.5…9

 Frequency, kHz

 0.01…10

 Pulse

  amplitude 0.5…9 V




  duration 40…250 ms

 Current, mA

 4…20

 Discrete 1, V

 0 (level 0)/U*PS (level 1)

 Discrete 2, V

 0 (level 0)/10 (level 1)

 Resistive, kOhm

 0.015…50

 * UPS  — voltage of vehicle power supply source